Ebe Erhunmu Oghe Iko.
Portions of the Book of Common Prayer in the Addo Language.
London: Christian Knowledge Society, 1909.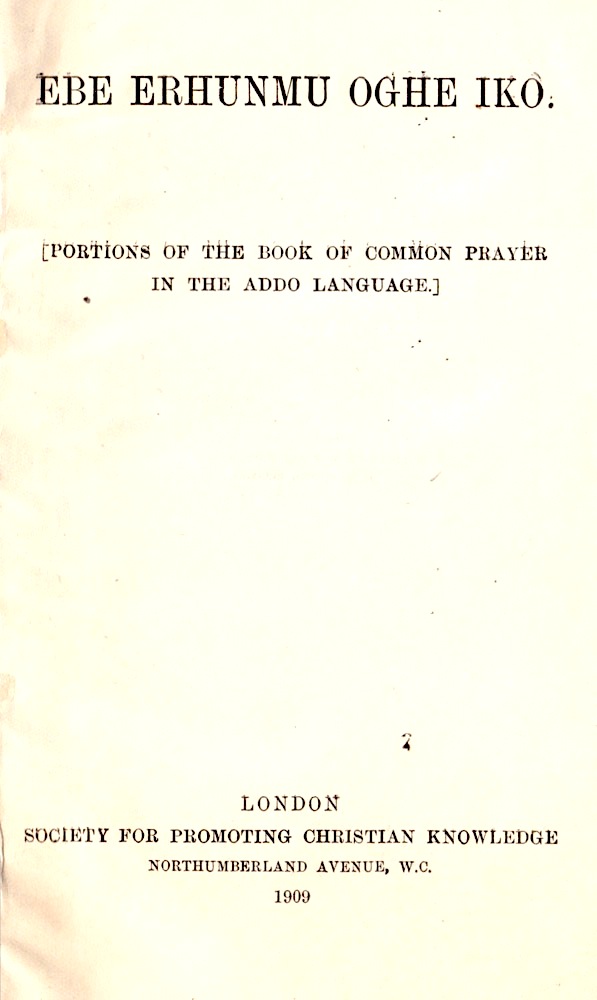 Download this volume in portable document format. [2.5 MB]
Contents
The Order for Morning Prayer

The Order for Evening Prayer

Catechisms
---
Addo (also called Edo) is a Volta-Niger language spoken primarily in Edo State, Nigeria.

William Muss-Arnolt discusses this translation in Chapter LVII of The Book of Common Prayer among the Nations of the World (1914). This translation is not listed in David Griffiths's Bibliography of the Book of Common Prayer 1549-1999.

This translation of services from the 1662 Book of Common Prayer includes State Prayers for Edward VII, for the British Royal Family, and "for the ruling King and Chiefs." It was digitized by Richard Mammana in 2011 from a copy belonging to the late Thomas Newton Rae.
---