The Book of Common Prayer in Amharic
Liturgia, seu Liber Precum Communium, et Administrationis Sacramentorum, Aliorumque Rituum et Cæremoniarum Ecclesiæ, juxta Usum Ecclesiæ Anglicanæ et Hibernicæ unà cum Psalterio, seu Libro Psalmorum cui accedit Forma et Modus Creandi, Ordinandi, et Consecrandi Episcopos, Presbyteros, et Diaconos.
Londini: Impressit Ricardus Watts, Impensis Societatis ad Cognitionem Christianam Promovendam Institutæ, 1842.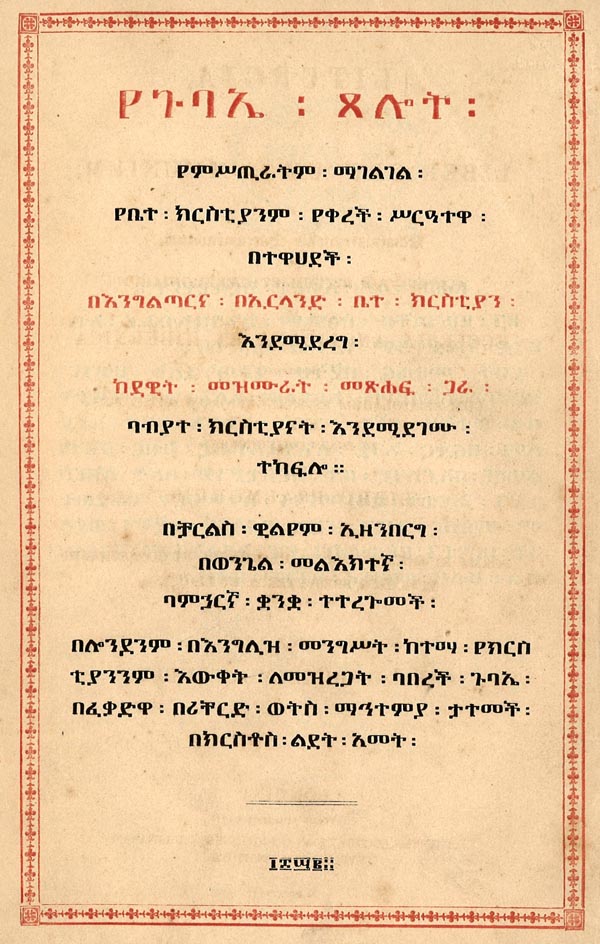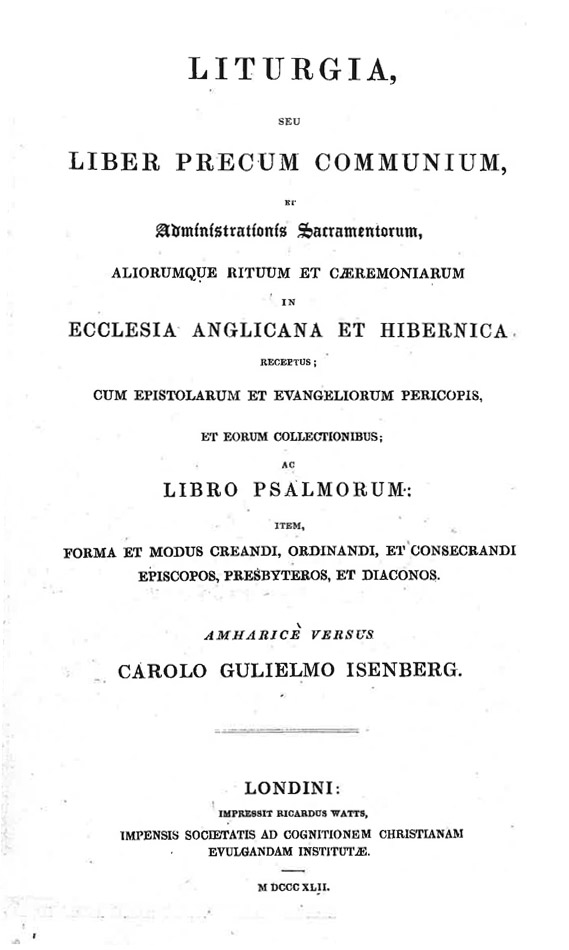 ---
Download in Portable Document Format [14 MB]
Download Psalter only in Portable Document Format [12 MB]
Historical introduction
Amharic is the second most-spoken Semitic language in the world, and the official language of Ethiopia.

William Muss Arnolt describes this first Anglican liturgical translation into Amharic in Chapter XXIII of The Book of Common Payer among the Nations of the World (1913):

The only Amharic translation of the Book of Common Prayer was printed in 1842 by Richard Watts for the S.P.C.K. It is a volume of (34), 522 pages, demy 8vo, printed in long lines. The reverse of leaf 1 (i.e., p. 2) contains the Latin title. [...] Facing the Latin title is the Amharic title, in lines alternately red and black.

German-born translator Karl Wilhelm Isenberg (1806-1864) was a Basel-trained member of the Church Missionary Society. After ordination in the Church of England, he served as a missionary in Abyssinia, returning to England in 1840 to publish several titles in Amharic. Muss-Arnolt is incorrect in identifying the Amharic Psalter as the work of Johann Martin Flad (1831-1915), who was just 11 years old at the time of this publication.

David Griffiths identifies this translation as 6:1 in The Bibliography of the Book of Common Prayer 1549-1999 (London: The British Library; New Castle, Delaware: Oak Knoll Press, 2002); it was digitized in 2012 by Richard Mammana from a copy belonging to the late Thomas N. Rae.
---