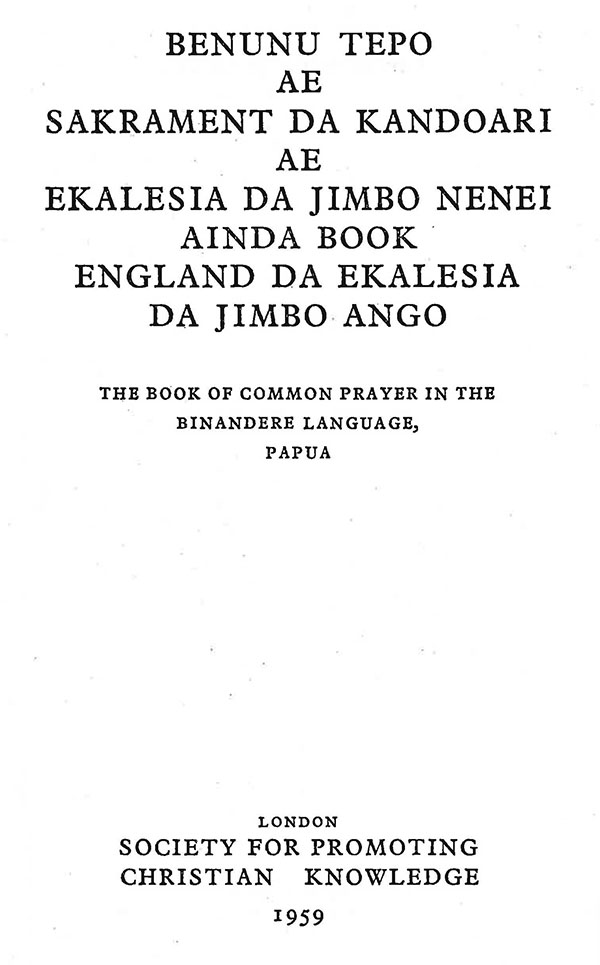 Benunu tepo ae sakrament da kandoari ae ekalesia da jimbo nenei ainda book England da ekalesia da jimbo ango.
The Book of Common Prayer in the Binandere Language, Papua.
London: Society for Promoting Christian Knowledge, 1959.
Download this volume in portable document format [14.8 MB]
---
Introduction
Binandere is part of a group of languages used in easternmost Papua New Guinea. An earlier Anglican liturgical translation from 1916 is available online at this address.

The State Prayers in this translation mention Queen Elizabeth II, Philip Duke of Edinburgh, and Charles Prince of Wales in keeping with their status in the Monarchy of Papua New Guinea.

David Griffiths identifies this text as No. 14:1 in his Bibliography of the Book of Common Prayer 1549-1999 (London: The British Library; New Castle, Delaware: Oak Knoll Press, 2002). It was digitized in August 2015 by Richard Mammana from a personal copy.
---