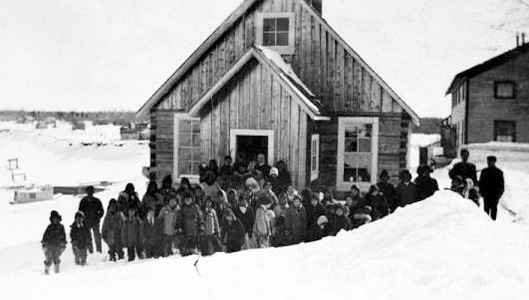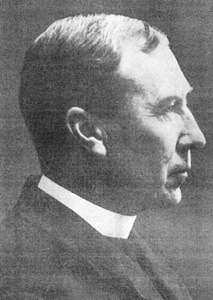 Order for Daily Morning Prayer in Deg Xinag.
Translated by John Wight Chapman.
New York: A. G. Sherwood & Co.,1896.
---
Historical introduction
This translation into Deg Xinag of portions of Morning Prayer from the Book of Common Prayer was prepared by John Wight Chapman (1858-1939), missionary of the Protestant Episcopal Church at Anvik from 1887 to 1930, with the assistance of native speakers of Deg Xinag.

William Muss-Arnolt discusses the history of this translation and provides biographical details on its translator in Chapter LXXII of The Book of Common Prayer among the Nations of the World (1914):

A translation of the "Order for daily Morning Prayer," 11 pages, paper, 5⅝ x 8¾ inches, long lines was printed for Mr. Chapman. Reverse of title blank; text, pp. 3-11. Headings and subheadings in English. The pamphlet was printed by A. G. Sherwood & Co., New York City, in 1896. A copy of the translation was sent to the author by Mr. Chapman, who at the same time stated that:

"The translation was made in December, 1895, by the Rev. John Wight Chapman and Paul Hasyan (native), and later a revision was made by Mr. Chapman and Isaac Fisher (native). So far as I am aware this is the first publication in the dialect in use in Anvik. . . . Some errors went into print which I hope to correct in a future revision which is now in course of preparation. The publication will include much more than the service for Morning Prayer. Besides this translation, I have prepared a translation, now ready for print, of the gospels for the Sundays and greater festivals and fasts of the Christian year; also, I have a good deal of material in manuscript which needs revision before it is published".

Chapman also translated the Form of the Solemnization of Matrimony and The Gospels for the Sundays and Principal Days of Obligation for the Christian Year, both of which remained in use in typescript. His own account of his missionary life in Alaska is Forty Years in Anvik (Hartford, Connecticut: Church Missions Publishing, 1931).

This translation is not listed in David Griffiths's Bibliography of the Book of Common Payer 1549-1999 (London: The British Library; New Castle, Delaware: Oak Knoll Press, 2002). This text was digitized in 2010 by Richard Mammana from a copy of the original provided by Thomas Rae, with grateful assistance for bibliographic consultation from the Alaska Native Language Center.
---
THE ORDER FOR DAILY MORNING PRAYER
Dennatiq tçoqdi yuq u¢etdo: niñukhago-qwutdenna qaiyinoxwohl tohldyuq.—Hab. ii. 20.
Dennatiq yuq qwutoutru¢utdahl su qunni toq sitduxugitsiq.—Psa. cxxii. 1.
Go qunnak vaqa qunnissai, yithoitsun si yit qouqwai deinisu¢entsun, diñita ñun noxoihl, eizree, sigu Dennatiq, si Thi kaxu ñi tsu Xaiukhaden qoyihl.—Psa. xix. 14, 15.
Dennaqwu Tho God yuqho tsucitoini, Jesus Christ dennagu Dennatiq yihl: antsun qatouzrehl yoqho oqo.—Phil. i. 2.
Toito oitsu doqtantsun, Dennagu Dennatiq yu yi qoitsun ihlkoidzu.—St. Matt. iii. 2.
Dennatiq tuñ uqoqtltsen. Denna kwuluqai tuñ qoi tcoq qoqtltse dennagu God oqo.—Isa. xl. 3.
Qonoqluan qonik ñizren yihl yoq tsu x usoihl niñukhagoqwutdenna yuqhotsu soqaitoihltsiqtsu qounnet.
Kwatdedl yoq oqo gout dran David kai Gitdidenna toilalen qaiçtlan tuqoxwun. Christ dennagu Dennati ñillan.—St. Luke ii. 10, 11.
Gitsudistantsun tdisni yithoitsun yit tduxustantsun soxo qaiçtlo tsuqoyan.—Psa. li. 3.
Gitsunuñaidlyoq tduxustan yithoitsun sigu trohaidtuqtsun tukanuquhldyaq.—Psa. li. 9.
Tukaidutatlnuk yithoitsun si Tho qoitsu tasoihl, yithoitsun vwatasnihl. Si Tho, gitsu tduxustan yu yit qoxwun, yithoitsun ñun noxwoihl hoyihl, yithoitsun tristuq çuqunan ni yu su qunnetsun.—St. Luke xv. 18, 19.
The Exhortation
Si yihl, qaiçtlannu vooistrortnnu, Dantltdigu denna uhlni qo¢hloñuqai gitsu ditroutantsun tratounihl; yithoitsun yuqhotsu dennagu troqaidtuqtsun vwu noxoihl troqotiçtseditsun, yithoitsun yuqhotsu hokantroqotitseitsun. God yuqhotsu tdigihlanen vwu noxoihl, dennaqwu Tho yu yi ¢etdonen; dahlinni tditratounihl denna inkuddu utdigitltro¢ ukhwul tsuqoyihl, vwu noxoihl denna kaihondluon tsuqoyihl, denna ¢uqtuyegu¢uq tsuqoyihl, yithoitsun yuqhotsu denna uhlnitsun darsroutehltsun dennagu trohaidtuqtsun denna oxwun yuanqwutihltihl tuqoxwun; kwatdedl ñizren an, yithoitsun qaihledzu tdu denna uhlantsun, qantroqoniqtsu hokaidtuku. Yithoitsun dahlinni gitsuditritantsun edti vwarzunedtsun qoxo qoyoudutrihlantsun, inni hokai euxu gou dutrihlan kehloktu nountrududihltoq, nihlitrutidudihltu qoyihl, qourcrugarzrutçun tuqwutsun kwatdedl yuqhotsu detcogu ñizren tritan vwu lo tsun, yithoitsun utdezro ñizren an vwarznni tuqwutsun, yithoitsun i vwu qunnagu ñizren yian triti¢hlt-tçehl tuqwutsun yithoitsun yuqhotsu denna-zruk denna-yege yihl voxo tilhal oxwun vwugu trati¢hlçhltsu qounnet.
Yithoitsun qaietlitç tsuqouqwai yoqho witisni, yuqhotsu go qutditltçenn, qaiezrentsun qoxwo qoyou dutrihlantsun qou dutrinnedtsun tsuqoyihl, yu ye qwoitsun denna Tsueningu wukududraçdoi nnoxoihl trutoudihl dutrinnedtsun:
A General Confession
Dennaqwu Tho ñitcoqan, denna oqo qaihledzu nnoxoihlniken, ñi tuñ gitdu truquxaidathl trohaidtuqu tuñ qoitsudzu antra yine¢hlyaxu uqai¢unuqtsu. Getti denna qoyoaqa hokaidutreitaitsun hokatoxo ntroihlnik tsuqoyan. Yuqhotsu tdu denna utañuni tuqoitsun ditroutan.
Yuqhotsu qaizrentsun dutriçtantsun hokatoxo ntrouthlnigitsun, yithoitsun trohaidtuq tsuqoyan ditroutan, yithoitsun hlitrudetaitsun. Dahlinni denna niñihlan tsuqoyan, Dennatiq, getti gitsu ditritan inni. An gitsuditroutan nnien, gitsu duqavwuçihlan. An tuqutantsu qoxwun kaxu nninuquvwe¢hlaiq; Yuqhotsu niñukhagoqwutdennayie dutatlihl qwuttenedtsun Jesus Christ dennagu Dennatiq oxwun. Yithoitsun utde yian oxwun ñarzrunni dennaqwu Tho, denna oqo qaihledzu noxwuhlniken, go qoitlyoxo ñoqwo qaihledzu darsroutihl, yithoitsun hlyoutsu qoyan darsroutihl, qou darsroutihl tsuqoyihl, niñukhagoqwutdennayie ñi erzre ñizren ñu qatounihl tsuqounnet. Amen.
The Declaration of Absolution
God ñitcoqan, dennagu Dennatiq Jesus Christ vwi Tho, trohaidtuqtsu ditanen tduutçoqtsun hokaiduetaitsun, dahlinni qogitruqaidtuqtsun hokoidzu noqwuhlnoiq; yithoxwun voqo tdiyinnien utduxainni qoyihl ditan; yithoitsun niñukhagoqwutdenna uqatounihl, qavwu¢uqtuyegu¢qtuyegu¢uqtoq duqutantsu qoxwun niqihltcik yithoitsun kuçquuhlniq tsuqoyihl. Yuqhotsu hlyoo vwu¢uqtuyegu¢uknnu, yithoitsun hlyoo uneu¢unnu vwu qunnagu ñizren oxwun yuqhotsu duqutantsun kuçquu¢hlniq, yithoitsun kaxu nninqo¢hlaiq. Yithoxwun vwu garzrilluan, hlyoo denna¢uqtiyegutou¢uk tuqoxwun, yithoitsun tdigu Yege Ñizren denna tloqutoilahl tuqoxwun. Yithoitsun yithoxwun kwattit ditritantsun vaqwa qutourjrehl, yithoutsun go qoitlyoxo denna qoyo yihl yithoitsun yuqhotsu ditritantsu qoyihl toujrehl. Yithoitsun yuqhotsu qoxwun vwiyihl sitratoihltsiq tsuqoyan; Jesus Christ dennagu Dennatiq oxwun. Amen.
The Lord's Prayer
Dennaqwu Tho, yu ye¢edonen, ñi erzre yian ñizren. Diñita yuqhotsu denna ñitsuqutiçda¢hl Dennatiq. Yuqhotsu hokaidiñitaitsun diñita hokuitlne, go ñan wukudzu, yu yit huku. Gout dran dennagu nuxaintltçun denna tloñuaiq, drantu qounnet. Yithoitsun yuqhotsu dennagu trohaidtuqtsun ditroutantsun kuçqunihlneq, yuqhotsu denna qavwugu trohaidtuqtsun tdu denna quhlantsun utdoxwun kuçqutdradlniq hukudutrihlan. Yithoitsun denna oqo quqaidtroç tuqoitsun denna tiçihltaq; Dahlinni trohaidtuqtu qoxogitdu noundennañihltaiq. Kwatdedl nitde yian Dennatiq eñilan, eñitlitç, eñizren, tsuqoyan. Amen.
The Versicles
Minister. Dennagu Dennatiq, denna tavon nihlkaunihlneq.
Answer. Yithoitsun denna-¢o qouqai ñigu qaiezrentsun qwoutroqaitouqwahl.
Minister. Yuhotsu derzren vwi Thotsun, vwi Yu tcin tsun, Yege Ñizren tci itsun.
Answer. Qwutci hokudiñita, kwattit çe yuqhotsu duqaita, yithoitsun yuqhotsu yian duqaitoitahl, ñan tciu qaitdun. Amen.
Minister. Dennatiq vwu erzre yian ñizren vwu toqnni.
Answer. Dennatiq vwu erzre yian ñizren.
Venite Exultemus Domino
Si yihl Dennatiq tsu gitrutiçtlii: sitriditltsei Gitti-dennauxuhltan ñitlitç tuqoxwun.
Vwu noitçu trouçdil voxwoqourcrigarzruçtçuntsun: diñita garzruçtlii an oxwun sitridahltsiq tuqoxwun.
Dennatiq God ñitcoq tuqoxwun: yithoitsun utde yian Dennatiq ñilan, giyen oxwun kautduku.
Edti niñkhago vwut lo oxwu duqo¢uon: deloi voxotiq qedlan yihl vwiye.
Toitcoq vwiye, yithoitsun yitltsen: Tdi lo aqa ñan ¢ihltsen.
Si yihl vwutsu kantruçtli, vwutsuyutrutrantliyizr: yithoitsun Dennati noitçu qutsitsdoukaitruçtçi denna ¢ihltsenen.
Utde yian Dennatiq ñilantsu dennaqwu Tho ñilan tuqoxwun: qountit vwugu dennayie trudelan, voxwu truditltçen, vwugu nehlyaxu dennaunoundadlniq tdi lo aqa.
Dennati tsu kantruçtli, voqo hliutrudetaitsun: diñita yuqhotso ñan kudzu qaiyinehltcidn. Ntoudoihl, ntoudoihl derzrenen atounihl tuqoxwun, troxoindetuqun yihl, niñukhagoqwuditltçen: yithoitsun ñizrentsun yuqhotsu ñan atounihl niñukhagoqwutdenna yihl hloutsu ditantsun.
Te Deum Laudamus
Ñitde jro eñizren O God; ñitde jro Dennatiq eñilan vwarznni.
Yuqhotsu ñun kudzu ñitsu kunuxutli: dennaqwu Tho ¢edoitsuqoyan.
Yuqhotsu ñoqwo ditannu qujrihltsu ñuqunni: Yu yihl, yithoitsu yuqhotsu deutlitç hoyihl wiyit.
Cherubim seraphim yihl: qujrihltsu ñuqunni tsuqoyan.
Tçoqdi, Tçoqdi, Tçoqdi: Dennatiq, loñnu vwi Thi eñilan.
Yu ñan yihl uqo¢uhn: ñugu qaiezrentsu qoqa.
Ñoxwu tduxahltçunnu detcoqnnu: Eñizren ñuqunni.
Yuqhotsu ñoqwo ditnnien qaihledzu ditannu: Eñizren nuqunni.
Ñu qunnagu xwu ditdiyoknnu qavwu deloi e¢luann: Eñizren ñuqunni.
Yuqhotsu niñukhago qwut dennayie ñoxwu kehloktu nnineudathlin: Dennaqwu Tho eñilan ñuqunni.
Vwi Tho: wantroqoni katuku eñitcoq;
Hlyoo ñi Yu kehlukun yian: vwutsu kantrutlinen;
Yege Ñizren tcin: Utdi-denna-dahltseen.
Detcoqnnu qavwugu Dennatiq eñilan; O Christ.
Dennaqwu Tho vwi Yu: ¢edoitsuqoyan.
Qoyoudañihltanton denna duqutantsun qozwu gitdu nninuqavwutatlaiq: tritlcedan vwu vwutu ennagu ditiçeneltsun.
Denna oqwo diteñihltu niñahltciukwultoñ; yuqhotsu hlyoo enedyaqnnu qavoqwo yu yit kai yadzuguniñihlnek.
God nihlnersen xwo a¢edoitsun; ñi Thogu qaidluan tsuqoyit.
Ntedoihl: denna atenihl tsuqounnet truneu¢un.
Yithoxwun tdu ñarznne, ñoqwo ditannu qavwutsueñini: kaxu ñuqavoxonukhattnu ñigu dihl aqa wihlqwa ñitcoq.
Diñita ñigu dezrennu xwo qaiyi toihltçehl tsuqoyan: qaidlyan tsuqoyit.
Dennagu Dennatiq, ñigu ninukhago qwut denna gitduqavwe¢hla: yithoitsun ñitloxu qoyeditltçen.
Qoxu Dennatiq eñilan; yithoitsun edtuku ñuquve¢hlaiq tsuqoyan.
Wintutoq, wintutoq: eñitcoq vwarznni.
Yithoitsun ñi erzre tsu kantrutli: tsuqoyan, ñan tci ukwultsun.
Denna niñihlan, Dennatiq; yithoitsun go dran denna xainuxuçenek gitsu darzuçnel tuqoxwun.
Dennatiq, denna niñihlan; denna niñihlan
Dennatiq, denna niñihlan: ñitdejro dennatsueñini tuqozwun.
Sigu Dennatiq, ñi tdavu-ditsa: diñita sukaihendluoitsu tsuqoyan.
Jubilate Deo
Sitoqlutseq Dennatiq oxwun, yuqhotsu niñukhago qwut dennayie: sitoqlutseqtsu voqo doqtan, yithoitsun gille yihl vwitsu toqdahl.
Hlyoo inoqu¢en Dennatiq an yian God ñilan; utde jro denna utltsen qwantdit troqodehltseditsun: vwugu niñukhagoqwutdennayie itreilan, yithoitsun tdigu yine¢hlyaxu ku denna ugehloñ.
Vwugu qwutdoi qwutdonoqdudihl, voxwoqourcrugatoqtcuntsun, vwi yuq ntdoqt¢udtsun Eñizren vwutoqnniitsun: Ñoxwoqourcrugarzrutcun vwu toqnni.
Dennatiq denna nihlan tuqoxwun, denna oqo qaihledzu ditan tsuqoyan: yithoitsu vaqa hlyootsun niñukhagoqwutdenna qutdigue srakai uqatounihl.
The Apostles' Creed
God dennaqwu Tho oxodeinisi¢ut yuqhotsu dehlan, yu ñan yihl yitltsen:
Yithoitsun Jesus Christ yian vwi Yu ñilan, dennagu Dennati: Tritltcedan Mary vwu gege uqaiçtlat, Yege Ñizren yoxonneyo tuqoxwun: Pontius Pilate xouun xuhltsek, quqai-idinihltcutcr, ditdiyok, dutcin yit qaiyuxuhltan: Vwukwullen yege qaidlantu na¢iyo; Toqtudran tukutdanedlnik tcin ditdiyokdu qoitsun: Yu yi nnuxuddiyo, Yithoitsun tdi Tho God yuqhotsu dehlaneu nihlnersen oxocetdo: Yitqwoitsun nountoudoihl derzrennu troxoindetuqnnu yihl oqotihl¢oiq, yithoitsun niñukhago ditltçen yihl yithoitsun yineñounu yihl.
Yege Ñizren voxodeinisi¢ut: yithoitsun yuqhotsu ñunkudzu kehlukdu nninedatlen; dezrennu kehlukun uqudelan: Yithoitsun dennagu troqaidtuqtsun kuçkutitlnik: Yithoitsun ninukhago qut dennayie yihl tukunounduqutoudlnik qutdu zruk yihl: yithotsun qavoxogatoiloihl tsuqoyan. Amen.

Minister. Dennagu Dennatiq yoqho yihl.
Answer. Yithoitsun ñi yege yihl.
Minister. Kantruçli.
Dennatiq, denna ninihlan.
Answer. Yithoitsun gitdi-denna-xuñiloitsun.
Minister. O God, denna qoyo ñizrentsu tdidinañi¢hlyaq.
Answer. Yithoitsun Yege Ñizren denna ñuqu¢uhltcigitsun.
A Collect for Peace
O God, ñoxwun niñukhago qwut denna ñihltsu qaihledzu yeguqudithliyo, yithoitsun yuqhotsu qoyan ñoqwo qaizren, nantroqoiniqtu denna-oxwu-gatooihl; ñoqwo ditritantu dennatiq itreilantsun. Gitdi-denna-ñihltaiq denna inni¢ihlxunn oxwun; qaiyaqa-denna-inni¢ihluxu utrentlutcidutsun, kwatdedl hlyou truneu¢en denna tsuenineitsun, Jesus Christ dennagu Dennatiq oxwun. Amen.
A Collect for Grace
Dennatiq, Dennaqwo Tho, yu ye a¢edonen, God yuqhotsu dehlanen ¢edoitsuqoyantdu ñoxwun gout dran tciit truxaidathl; Ñigu qaietlitç tsuqouqa denna tsueñini gout dran; yithoitsun diñita gout dran trohaidtuqtsu qoyit trutitltciltsun, yuqhotsu treinoihltjidu tuqoitsu arcruçdiltsun hoyihl; dahlinni yuqhotsu dennaq uxainnoo ñoqwo tourzrihl, kwatdedl denna xuñilahluqai: Jesus Christ dennagu Dennatiq oxwun. Amen.
A Prayer for the President of the United States, and all in Civil Authority
Dennatiq, Dennaqwu Tho yu ye a¢edonen, ñituku qoitsun niñukhagoqwutdenna qavwugu Dennati eñilan, ñigu kudzudraçdoi qoitsun yuqhotsu niñukhagoquditltçen niñihlantsun; qaietlitç tuqouqa tdu ñarznni ñu giolitu United States qogu Dennati qaihledzu niñihlan, yithoitsun voqo qaihledzu diñihlan, yithoitsun yuqhotsu Dennatiqyie yihl; yithoitsun ñigu Yege Ñizren qavwu tloñila yu yuqhotsu tdu qavwu tdenidtsun hokaiduqutoitahl tuqoxwun, yithoitsun ñi tuñ qutoudihl. Ñituku qoitsun dezrennu loñn qavwu tloñula; Diñita niñkhago qayitoihltçehl qoñuç; qavwiyihl tourzrihl tsuqoyihl; yithoitsun go ñan kudzu niñukhago quditltçeidu hokuaidlniktu, qavooxogatoiloihl tsuqoyan soqaitoihltsdiqtsun, yithoitsun qavoxo qaihledzun Jesus Christ Dennagu Dennatiq oxwun. Amen.
A Prayer for the Clergy and People
O God, ñitcoqan, ¢edoitsuqoyantdu, yuqhotsu dennatloutdahl ñitsun derzrenn hlidetai. Dennagu Bishops wuluktoñ Yinihlyaqnu yihl, yithoitsun qavwu qaiyinihlyaxu tcin kehluktunnineudatlen, ñigu Yege Ñizren qavwukudzu noñihlo, qwutsuetounitsun, ñun noxoihl hloqaitoitahl tsuqounnet; yithoitsun ñigu qaizrentsun qavwuku kgiñiñihl doqte hoku, ñoqwo qaihledzu tuqutoutihl tuqoxwun. God diñihlan tduñarznni Dennatiq, denna oqo qunnaien vwu qaizren tuqoxwun, denna oqo ñun noxoihl dihlanen, Jesus Christ. Amen.
A Prayer for all Conditions of Men
O God, niñukhagoqwutdenna ¢ihltsenen, yithoitsun qaihledzu tdu-qavwihlantsun, yuqhotsu denna gitsudzu-diñitlannu oxwun qoxu ñarzruneidtsun, qavwiyihl ntadzduqaidta wantrotroqonegu inni, Diñita ñi tuñ u qunuqoquçnei, tduqai itidzu tduqavwe¢hlyaq, yithoitsun gitdu-qavwe¢hlya. Yithoitsun ñoxwu kehluktu-nnedathlnu oxwun tcin tdu-ñarzrunni, ñi Yege Ñizren qaizren tuqoitsun qavwe¢hlo; yuqhotsu Christ erzre nnien, vwugu niñukhago qwut dennayie itreilan nnien u yihl, hloutsu tuñ tsu qavwe¢hlo tuqounnet, yithoitsun yit tuqaiuneu¢intsun kehlukun yege aqa qaietoutiñ, kehluktu qutditltçen tduqaietidtsun, qaihledzu duqutantsu qoyihl. Utdi ñarzrunni vaqa-gitsunnu oxwun, qutdu qoyo oxwun, qutdu zruk yihl, qavwu deloi oxwun yihl; diñita utdue quvwitdeçehltsee, yithoitsun qavwi yeu¢en qavwutloñila. Diñita qutltsek tuqovoqodeu¢ut tduqwotdavu tduqavwiñihltcin, yithoitsun yit qavoxwun diñita tçcunuqavwe¢hlaiq qavwiyihl qaizrentsun, qavwi Tho eñilan tsuqoqa. Yithoitsun gon qaietlitçctsu ñarzrunni Jesus Christ oxwun. Amen.
A General Thanksgiving
O God, ñitcoqan, Dennaqwu Tho, yuqhotsu dennagu dezren ñitsun; Ñoqwo qaihledzu ntrounik ñkhwul, dahlinni yuqhotsu denna qoyo aqa ñoxoqourcrugarzruçtçun kwatdedl tdu denna niñihlan tuqoxwun, yuqhotsu niñukhagoqwutdennayie yihl: nayie yihl: Eñizren ñarzrunni, kwatdedl denna ¢ihltsen uqai, yi denna niñhlyaq tsoqoyihl, yithoitsun yuqhotsu dezren denna tloñilaiq tsuqoyihl; dahlinni yuqhotsu hokadtuku ñoxoqourcrugarzruçtçun, kwatdedl yuqhotsu niñukhagoqwutdennayie oxoeñitrort, yithoitsun dennagu Dennati Jesus Christ qwoit-loxu ñihltan qavoqwo, yithoitsun yi-denna-tsu eñineitsun qaizrentsun ditritan tuqozwun, yithoitsun go-qoitlyoxu dennaoqo qaiitourzrehltsu ditruneu¢en tuqoxwun. Yithoitsun denna qoyo aqa qantruzutouniktsu ñarzrunni, yuqhotsu tdu denna niñihlantsun hlyoutsu ñoxoqourcrugarzruçtçun ditratounihl tuqoxwun; yithoitsun ñigu qaizrentsun ditratounihl denna tavon aqa, yuqhotsu ditritantsu qoyihl qouqa, kwatdedl nitloxo troqotoihltahl, diñitan tsun darsroutehltsu qounnet, yithoitsun qaizren tsuqoyan tcin darsourtihltsu qounnet, denna yetsr uqudliñuçtsun, Jesus Christ dennagu Dennatiq oxwun, utde yian ñitcoq, ñizrentsu qoyihl, ñitdedugu hoyihl, Yege Ñizren yihl, tsuqoyan. Amen.
A Prayer of St. Chrysostom
God ñitcoqan, goutuxuhltik denna tsuañuni kehlukun huku nitsu kantrutleitsun, ñigarzrilluan tsuqoyihl; yithoitsun denna utdanuni noutn toqn inni ñoxwun kehluktu ñuqunedatltu yuqhotsu tdañuqunnedzu diñitannu; kwatdit yuqhotsu ñu giolituie qaiyokaidiñita, yithoitsun yuqhotsu tdu ñuqunnedtsu qavoqo diñihlan; yuqhotsu qavoqo qaizrentsun; yithoitsun go ñan truditltçeitsun diñita yuqhotsu ñi yihl hlyootsun qantroquç nei yithoitsun ñitduku niñukhago-tratoihltçehl tsuqoyan. Amen.
II. Cor. xiii. 14.
Dennagu Dennatiq Jesus Christ Dennatsueinii, yithoitsun tce dennaqwu Tho dennaxoxowuedtrortitsun, yithoitsun Yege Ñizren tci denna yihl tsuqoyan. Amen.