Morning Prayer and Evening Prayer in Hebrew (1833)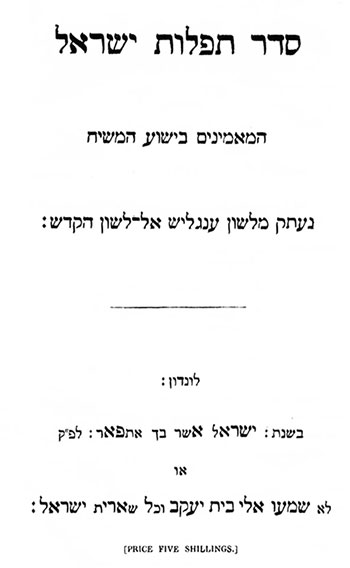 סֵדֶר תְּפִלּוֹת יִשְׂרָאֵל
London: 1833.
Download in portable document format [7.3 MB].
---
Introduction
This translation of portions of the 1662 Book of Common Prayer into Hebrew was prepared by Christian Hermann Friedrich Bialloblotzky (1799-1868), a German Jewish convert to Christianity. Bialloblotzky worked as a Lutheran theologian and Methodist missionary, as well as an explorer of Eastern Africa.

This edition is not listed in David Griffiths's Bibliography of the Book of Common Prayer 1549-1999 (London: The British Library; New Castle, Delaware: Oak Knoll Press, 2002). It was digitized by Richard Mammana in 2016 from a personal copy.
---