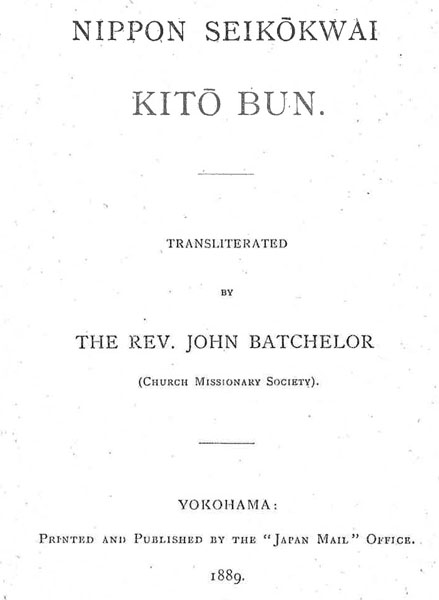 Nippon Seikōkwai Kitō Bun.
Transliterated by John Batchelor.
Yokohama: Printed for the Japan Mail Office, 1889.
Download this book in portable document format [18.3 MB]
---
Introduction
This early Japanese liturgical publication is transliterated into romanized Japanese for use by Anglophone missionaries who were not yet fluent in normal written Japanese. Similar publications followed in 1916 and 1964.

John Batchelor (1854-1944) was a long-serving Anglican missionary in Japan whose primary work was among the Ainu people of Hokkaido. His translation of the Book of Common Prayer into Ainu is also available online.

David Griffiths identifies this translation as No. 67:2 in The Bibliography of the Book of Common Prayer 1549-1999 (London: The British Library; New Castle, Delaware: Oak Knoll Press, 2002); it is not mentioned in William Muss-Arnolt's Book of Common Prayer Among the Nations of the World (1914). It was digitized in January 2012 by Richard Mammana from a copy belonging to the late Thomas N. Rae.
---
NIPPON SEIKŌKWAI
KITŌ BUN.
TRANSLITERATED
BY
THE REV. JOHN BATCHELOR
(CHURCH MISSIONARY SOCIETY)

YOKOHAMA:
PRINTED AND PUBLISHED FOR THE "JAPAN MAIL" OFFICE.
1889.
---
MOKUROKU

| | | |
| --- | --- | --- |
| Sō Tō Bun | 1 | The Order for Morning Prayer |
| Ban Tō Bun | 17 | The Order for Evening Prayer |
| Ritani | 29 | The Litany |
| Rinji Tō Bun | 37 | Prayers |
| Rinji Sha Bun | 45 | Thanksgivings |
| Nenchū Seijitsu Shuku Bun | 49 | Collects To Be Used Throughout the Year. |
| Sei-san Shiki | 81 | The Order for Holy Communion |
| Eiji Seisen Shiki | 104 | Publick Baptism of Infants |
| Eiji Seisen Jitaku Shikki | 113 | Private Baptism of Children |
| Sōnen Seisen Shiki | 120 | Baptism of those of Riper Years |
| Kōkwai Mondō | 129 | A Catechism |
| Kenshinrei Shiki | 137 | The Order of Confirmation |
| Kon-in Shiki | 141 | The Solemnization of Matrimony |
| Kanshibyō Bun | 152 | The Visitation of the Sick |
| Byōsha Seizan Shiki | 167 | The Communion of the Sick |
| Maisōrei Shiki | 169 | The Burial of the Dead |
| San Go Shaon Shiki | 179 | The Churching of Women |
| Dai Sai Shijitsu Sange Bun | 183 | A Commination |
| Atanashio Shinkyō | 192 | The Creed of S. Athanasius |
---
mammana.org