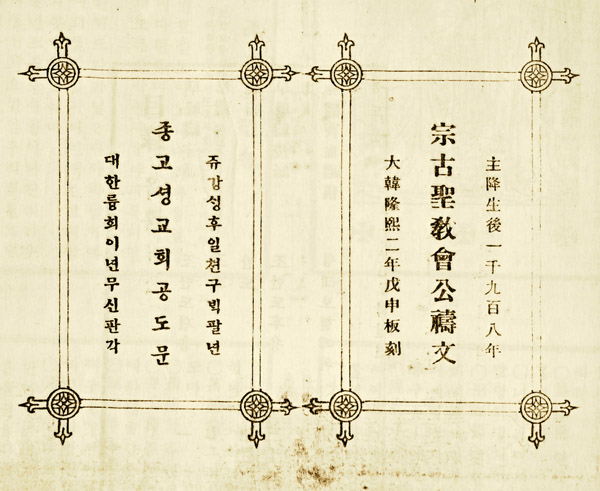 Portions of the Book of Common Prayer in Korean
宗古聖敎會公禱文
강고셩희공도문
Seoul: The Korean Mission, 1908.
---
Contents
Opening Portions of Morning and Evening Prayer, 1-6
Morning Prayer, 7-21
Evening Prayer, 22-31
Closing Portions of Morning and Evening Prayer, 32-37
Litany, 38-51
Occasional Prayers, 52-58
Holy Communion, 59-104

Private Prayer
Lord's Prayer
Collect for Purity
Decalogue with responses or Summary of the Law with Kyrie and Collect
Prayer for the Emperor
Prayer for the Nation
Collect
Epistle
Gospel with Gloria Tibi and Deo Gratias
Sermon
Dismissal of catechumens
Nicene Creed
Offertory
Prayer for the Church
Invitation
Confession
Absolution
Comfortable Words
Sursum Corda
Preface
Sanctus
Prayer of Humble Access
Prayer of Consecration
Communion
Lord's Prayer with Doxology
Thanksgiving
Gloria in excelsis
Blessing
Ablutions, during which Nunc dimittis or a Hymn may be sung
Private Prayers


Prayer for fruitful seasons
Prayer for Rain
Prayer for fair weather
Prayer in time of dearth and famine
Prayer in time of pestilence
Prayer for catechists
Prayer for the conversion of those outside the church
Prayers for candidates for holy orders
---
Download this volume in portable document format
---
Historical introduction
William Muss-Arnolt discusses translations of the Book of Common Prayer into Korean in Chapter XL of The Book of Common Prayer among the Nations of the World (1914). This translation is not listed in David Griffiths's Bibliography of the Book of Common Prayer 1549-1999 (London: The British Library; New Castle, Delaware: Oak Knoll Press, 2002).

This Korean-language Anglican liturgy was digitized in 2010 and 2011 by Richard Mammana from a copy belonging to the late Thomas N. Rae. Christine Kim, Hannah Roh, and Blenda Im assisted with transcription, proofreading and digitization.