Ne Vavatema Vivda Pah Tage Vivda Volquane Lema Ruar
Portions of the Book of Common Prayer in Toga (1907)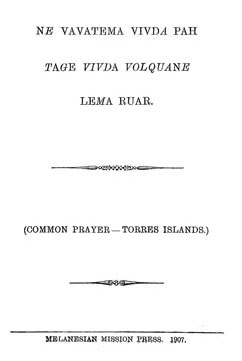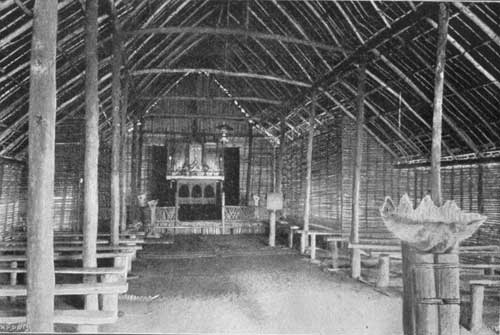 ---
Toga (also called Loh and Loh-Toga) is a language spoken on the Torres Islands of Vanuatu. The Melanesian Mission's work in the Torres Islands was begun by the Reverend Edward Wogale, an indigenous missionary from Mota.

Henry Hutchinson Montgomery discusses the history of missions in the Torres Islands in Chapter XI of The Light of Melanesia (1904). Other early accounts of Anglican life in the Torres Islands contemporary with this liturgical publication are by Cecil Wilson (1905), J. W. Beattie (1906), and Ellen Wilson (1911). William Muss Arnolt discusses the history of local liturgical translations in Chapter XLVI of The Book of Common Payer among the Nations of the World (1914):

Torres is the language of the Torres group, to the north of the New Hebrides, consisting of four inhabited islands with a population of about 1,500. The translations of Scriptures or Liturgy are all in the dialect of Lo. About the year 1897 the Rev. Leonard Philip Robin, of the Melanesian Mission, translated the liturgical Epistles and Gospels, 133 pages, with an appended table. Text printed in paragraphs. The book was printed by the Melanesian Mission Press. Ten years later, in 1907, the same press issued an edition of portions of the Book of Common Prayer, 45 pages. Robin is a graduate of Hertford College, Oxford, 1881. He was missionary in Melanesia, 1888-90; at Torres Islands, 1890-99, and organising secretary for the Melanesian Mission, 1899-1905.

David Griffiths identifies this translation as 179:1 in The Bibliography of the Book of Common Prayer 1549-1999 (London: The British Library; New Castle, Delaware: Oak Knoll Press, 2002); it was digitized in 2012 by Richard Mammana from a copy of the original provided by the late Thomas N. Rae.
---